Memories
In this section you can send us some of your memories, read a little about the history of the school and look at some nostalgic photos.
Over the years Cavehill Primary School has developed and evolved from small beginnings into the busy and vibrant school that it has become today. We are so grateful for the vision and efforts of so many people over the last 170+ years who were committed to providing for the educational nurturing of the children in the North Belfast area.
We are fortunate to be able to build on the strong foundation that they have provided and the legacy which they have left is an inspiration to all of us as we continue to care for and educate the children in our school. Parents, pupils, teachers, principals, non-teaching staff, governors and the wider community have all had an important role to play in making Cavehill Primary into the school that we all treasure today.
A Brief Background to Cavehill Primary School
In 1835 industrialisation led to the development of the Belfast and Cavehill Railway to transport limestone from the nearby quarries to Belfast. Cottages were built to house the workmen and their families and requests for a school to be established soon began.
John Wallace, a solicitor, was involved in these developments and took a lead in bringing education to the area, which he described as follows in his letter of application to the National Board of Education:
"There is probably not a district under your board which is more ignorant or destitute of education."
A school costing £265 was erected on land leased by Wallace for 999 years. It consisted of a classroom measuring 35' by18'; while females occupied a space measuring 22' by 18', which also served as sleeping accommodation for the teacher. Life was bleak within this mud-floored schoolhouse. However, in 1858 the authorities installed "foot rails for those in desks" which must have given some relief to the barefoot pupils.
In 1858 it was noted "Manager to use his influence to cause pupils to attend more regularly." 1864 the school was told that "Easel and tablet lessons to be used more frequently" and in 1865 "If 50 pupils are not present when next the Inspector calls, the assistant teacher's salary will be stopped."
The attendance of the pupils was not very regular due to malnutrition and outbreaks of fever which seemed to afflict this isolated community. By the end of the 19th Century, the fortunes of the railway went into decline and it closed. At the time, it probably appeared to be the death knell for the local school but a most unlikely saviour was found. The parallel roadway, which the law had insisted on, allowed housing developments to take place along the Limestone and Lower Cavehill Roads.
The suburban spread had begun, and it continued throughout the 1930s. The Belfast Corporation eventually took over the roadways and graded them carefully so that the new petrol buses could initiate the first such service in Belfast. Even the outbreak of World War 2 only provided a slight setback for this area. The school was closed and the pupils evacuated, while nearby houses were commandeered for military use, but soon it was back in commission again.
The school, known as Cavehill Railway National School, remained in this building until World War 2. After the war, parents persuaded the authorities to reopen Cavehill, but the old school could no longer cope with the growth of numbers and so the original Methodist Hall, which had previously been a private school, was used as an annexe. However, the district had expanded and a new site for the school was then acquired in Upper Castle Park. In 1953, Short Brothers and Harland erected a pre-fabricated "temporary" building that had nine classrooms at a cost of £56,000. Several mobile classrooms were added over the next fifty years.
In 2004, 160 years after the founding of the school, the present generation moved into a modern building.
There has been, however, a silent witness to all these events. When the original school was opened, there stood above its entrance, a stone proclaiming "CAVEHILL NATIONAL SCHOOL 1844". That stone has witnessed all who have entered Cavehill from its earliest days. It survived a terrorist attack in the 1970's and was rescued by the Ulster Museum. It stood proudly in the entrance hall of the second school and today stands as a witness to the events that will unfold as present day pupils write their proud chapter in the continuing story of Cavehill Primary School.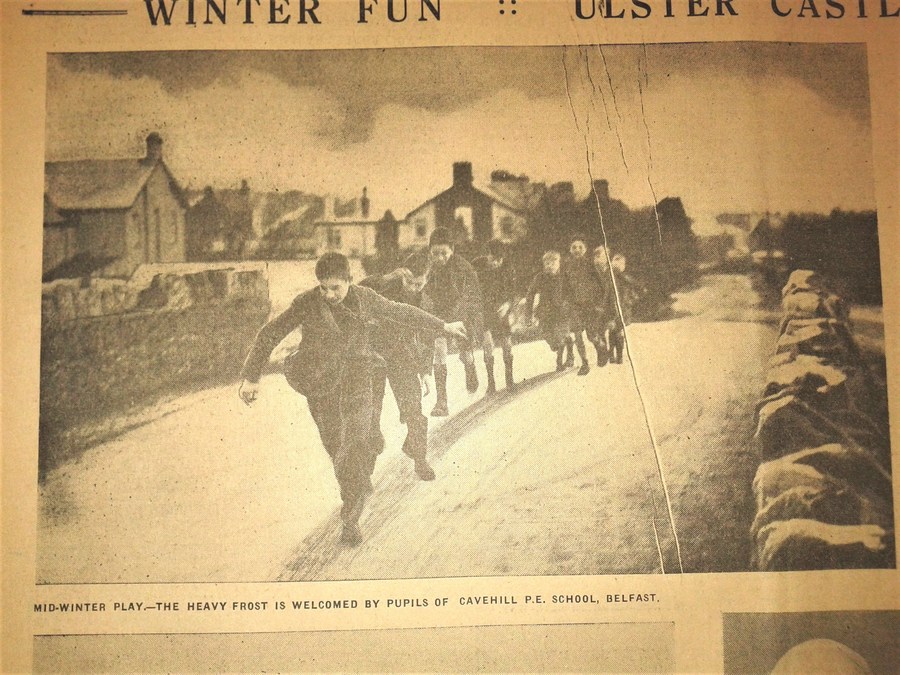 This photograph appeared in the picture section of the Belfast Telegraph on January 17th 1933.
Comments (4)
Show Comments
Mike
(a couple of years ago)
I attended Cavehill from 1970 to 1977 and have some great memories. Some teachers I especially remember were Mrs Gourley (p6 I think), Mrs Henderson (p1) and Mr Meakin (p7?). The head at that time was Mr Stirling. Just seems like yesterday!
Anon
(a few years ago)
Thank you for my experience at Cavehill, I was taught things that I will never forget. Looking back at some of the pictures have brought the memories back as if the pictures were taken yesterday. + Mr. Taylor was my favourite teacher.
Karen Viney (nee Perrett)
(a few years ago)
I have two school reports, Christmas Examination 1955 and Summer Examination 1956, signed by F.R.E. Ervine, Miss Ervine. There were 47 of us in the class. I have always remembered those early school days.
Elizabeth Weir
(a few years ago)
I remember Cavehill (as the black and white picture above) fondly. My sister and I would walk up together. My mother was a local vet who frequented the school bringing something cuddly for the children to fawn over for a little while.. Looking back I could have sworn that the older kids playground went on forever. And that the bike sheds were the coolest place in the world - I remember finding spiders and other creepy crawlies in there to squeal over. My daughter is in p2 now in Cavehill (hasn't had any teachers I had in my time there, YET - that will be fun). I can distinctly remember talking with friends about how the new build would be no where near as nice as OUR Cavehill... And to some extent, it won't be! The old Cavehill WAS my Cavehill! And always will be superior in my stubborn mind... But the new is absolutely beautiful, and my daughter loves it. I hope one day she can look back on her time there as fondly as I do. I am REALLY looking forward to some nostalgic pictures being loaded to the site, I'll be showing my sister (and my daughters Godmother who also went to Cavehill PS)!