Holiday List for 2018-19
Please click here to view this information.
The Countdown To Christmas 2017
Our very own Key Stage 2 choir helped kick off Belfast's official countdown to Christmas. They joined the Cool FM Breakfast Presenters and the Lord Mayor, Nuala McAllister, onstage to get the large city centre crowd into the festive spirit. We are all very proud of them. Each and everyone of them did an amazing job!
Scholastic Book Fair 23rd- 26th October 2017
Scholastic Book Fair will be in school Monday - Thursday 23rd - 26th October between 1 - 3.30pm in the Assembly Hall.
Please stop by when you come to your parent/teacher interview. We love to see you!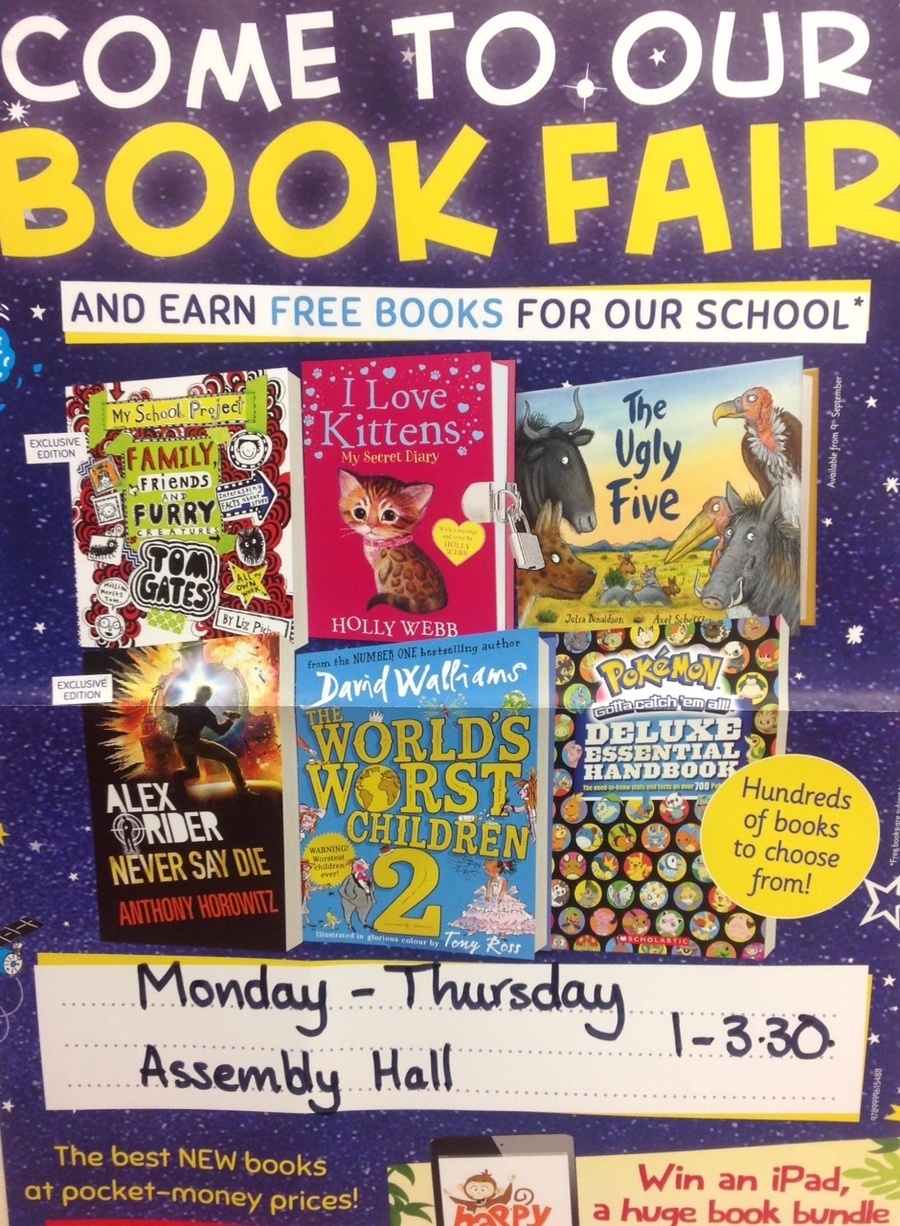 Maths Week Ireland 14th - 22nd October 2017
'Maths Week Ireland' is an annual event which promotes people of all ages to engage with maths.
Over the week, our pupils will be encouraged to try different approaches to solve a range of mathematical challenges posed to them.
Our aim is to promote team work and discussion through problem solving, to bring maths to life through practical activities and to raise excitement and enjoyment of this subject area through various mathematical games and competitions.
We will also be running a special competition called 'Real Life Maths'. The aim is to enable pupils to realise how much we use mathematical skills in real life e.g. counting objects, calculating restaurant or shopping bills, telling the time, planning schedules and trips, etc.

We are inviting pupils to either bring in a photo, drawing or piece of writing about how they and/or their families have used maths in real life (i.e. outside of maths homework).

Competition entries must be received by Monday 23rd October and need to include the child's full name and class and a title or sentence to explain how maths is being used.
A Special Shout Out ...
The P7s were set a recent research task to find out all they could about a modern invention that changed the way we live our lives. Wow did they meet this challenge! Our young researchers used books and internet searches to find what they were looking for. The inventions covered life changing developments including computers, printers, digital cameras, USB keys and bouncing gymnasium floors.
One researcher that deserves a special shout out is Jack Coulter. He presented his findings in a most imaginative way. As you can see he produced a very creative piece on the defibrillator.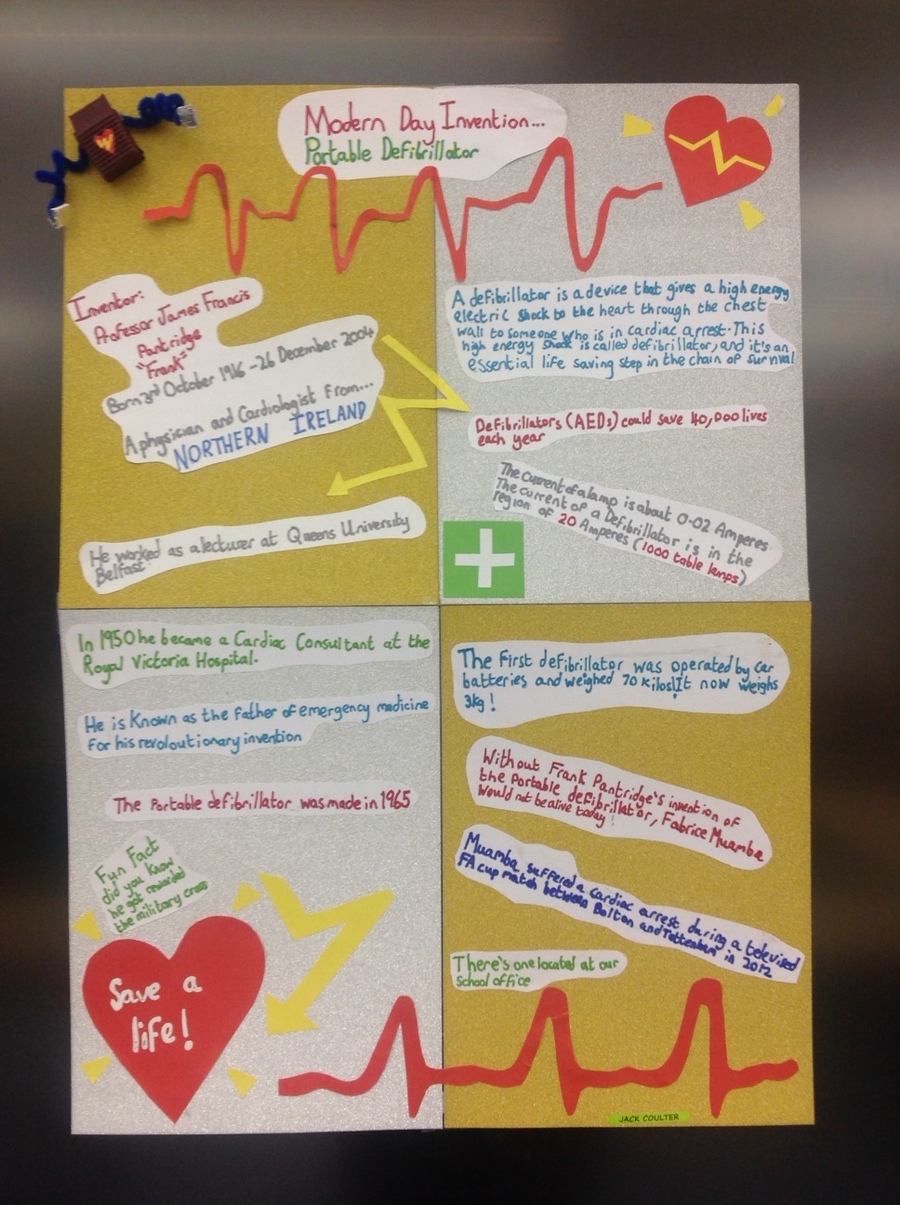 Cavehill Primary Summer Scheme 2017
This annual event took place throughout July under the leadership of Christine Henderson and a faithful band of helpers. Those who attended had a great time as the following comments from their parents demonstrate:
...Our daughter really enjoyed her time at Summer Scheme. There was a great variety of trips and activities. She loved the party and the bouncy castle but also the trip to Windsor Park and the many arts and crafts. She will be a regular at Summer Scheme along with her brother from next year. Thank you for providing this invaluable service.
The boys love the Summer Scheme, everyday they come home all excited telling me what they did that day. It has really helped me and their dad as we both work and would otherwise struggle to find someone to look after them all day. They feel really at ease knowing that their surroundings at the school are familiar and that Christine and all the other staff are familiar faces. the staff are so lovely and kind and put their all into making the Summer Scheme fun and adventurous.
Thank you so much, our son loves going to the Summer Scheme. Every morning when he wakes his first words are: "Am I going to Summer Scheme today?" When we say yes, he jumps for joy! He absolutely loves it! The only way to improve it is to run into August! Many thanks.
We feel that there is no room for improvement. He had a fabulous time and looked forward to going each day.
Excellent summer scheme with loots of activities. Every day was different. She really enjoyed it.
My son took a little while to settle in but with the help from the truly wonderful staff at the summer scheme, he started to really enjoy going everyday. He has brought some wonderful creations and art work home. I would like to thank the staff as I myself struggled knowing he was a bit nervous but they really put my mind at ease as I really know he has wonderful support from the girls.
We love the friendly staff's small scale - it is perfect for P3-4 age group. Lots of field trips and themed ideas makes it exciting and something 'special' to be doing and not just day care. We were caught a little by surprise by the closure during the wk 10-15 July. Better publicising of dates and themes for each week once you start maybe so parents know what the kids are doing and where they are going?
This is our son's second year at Cavehill Summer Scheme. Yet again we were delighted with the range of activities arranged for the children including two trips out. the staff are wonderful with him and he is very content in the school environment. Well done Christine and team!
Kids all really enjoyed the summer scheme. Activities were brilliant, Great value for money. Hope it runs next year. Trips out made their week!
Our daughter has enjoyed the summer scheme - again. She enjoyed the various themes and the excursions - Windsor Park, The MAC and Cinema. Overall a great experience!
Our son loves the scheme! He is up every morning asking if he's going today. He doesn't like Saturdays and Sundays as he doesn't get to go! I will be sending him back to it next year also. Great staff, great activities, great everything in his eyes (mine also).He still talks about going to Windsor!
Our son has really enjoyed summer scheme 2017, this is his 3rd year going. It's a great opportunity for him to see his friends in an environment he is very familiar with and where the staff know him. I thank he would say the highlight for him was the magician coming in, he talked about it at length! Thank you ladies, enjoy the rest of your summer.
The only comment from my son is that summer scheme is not on in August too! He had a ball and couldn't wait to go in every day. He said the staff were wonderful and he really enjoyed the outings and special visitors, but he'd just as much fun on the down days. He wants to go every year.
Our daughter has had a wonderful week at the summer scheme! Very well-organised with amazing staff.
Our daughter had a fantastic time at the 2 week summer scheme. She enjoyed all the art and nature activities. I feel that she is more confident since meeting new people from school. She is also very excited about 'Princess and Star Wars Week'.
Our son was initially dubious as he didn't know many children; however, staff really helped the children gel together immediately and he talked extremely excitedly about the scheme every single day when he returned. He has loved every minute of the scheme and will miss it - as will I!!
Comments from The MAC - Hi Christine, it was an absolute joy to have you and we got so many nice comments from people who said how well behaved your group was. Also great to see such enthusiastic staff!
Big Pedal 2017 Bling Your Bike Winners
Bling Your Bike Day was an astounding success this year. It was the perfect event to highlight the positive message of coming to school by bike or scooter. 174 children took part which was a massive effort, thanks. Mr Taylor
...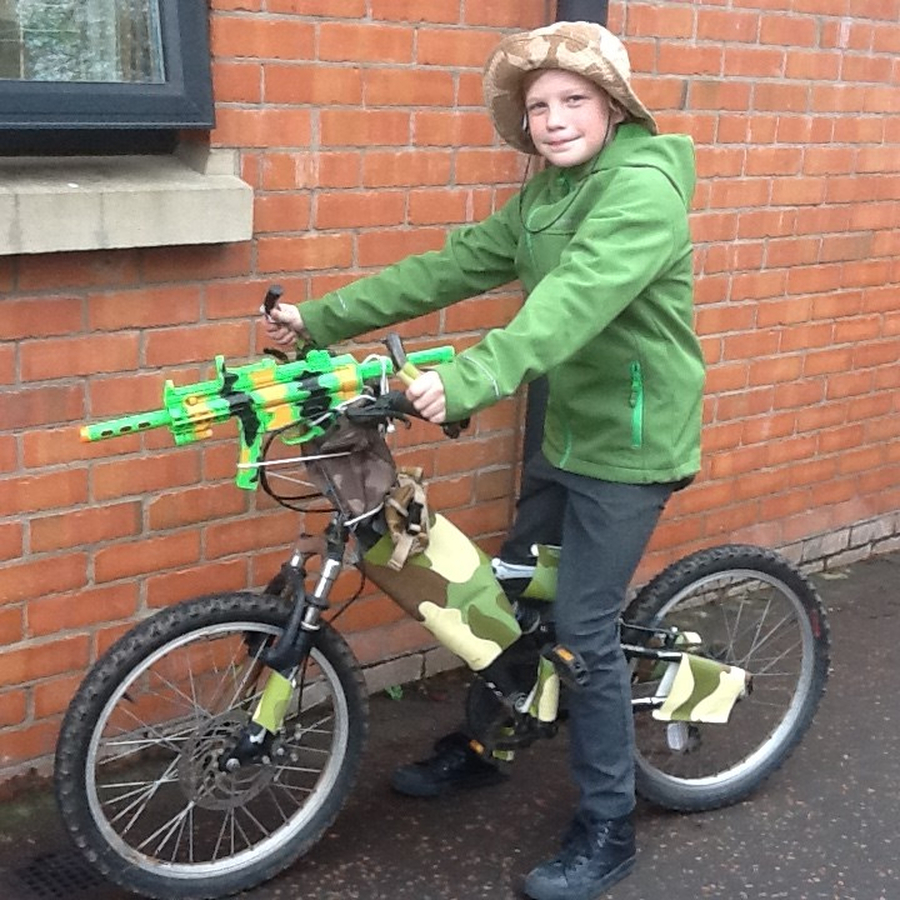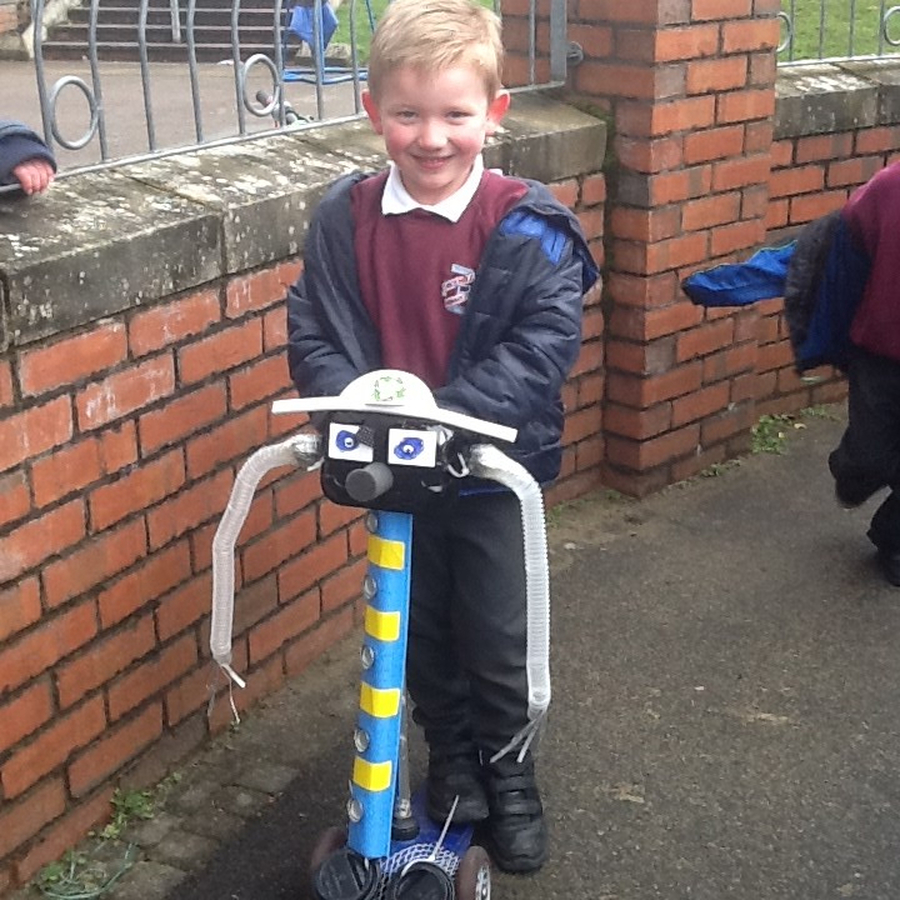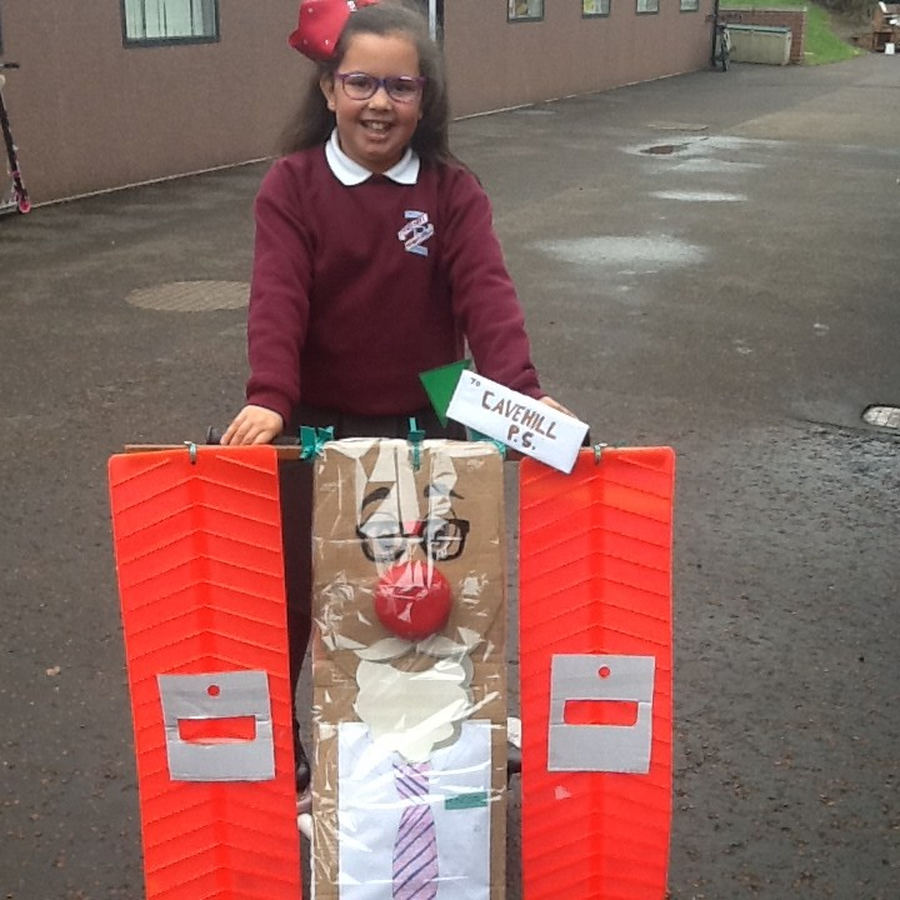 ---
Pupil Holiday List 2016-17
Please click here to view the holiday list for 2016-2017.
---
Tree Planting Day
On Sat 12 March parents and pupils came along to plant 420 saplings which were provided by the Woodland Trust. We look forward to seeing these plants grow and mature over the coming years.
---
P4 visited Palace Stables in Armagh to learn about WW2. They visited an air raid shelter, carried out some code breaking and learned about life as an evacuee.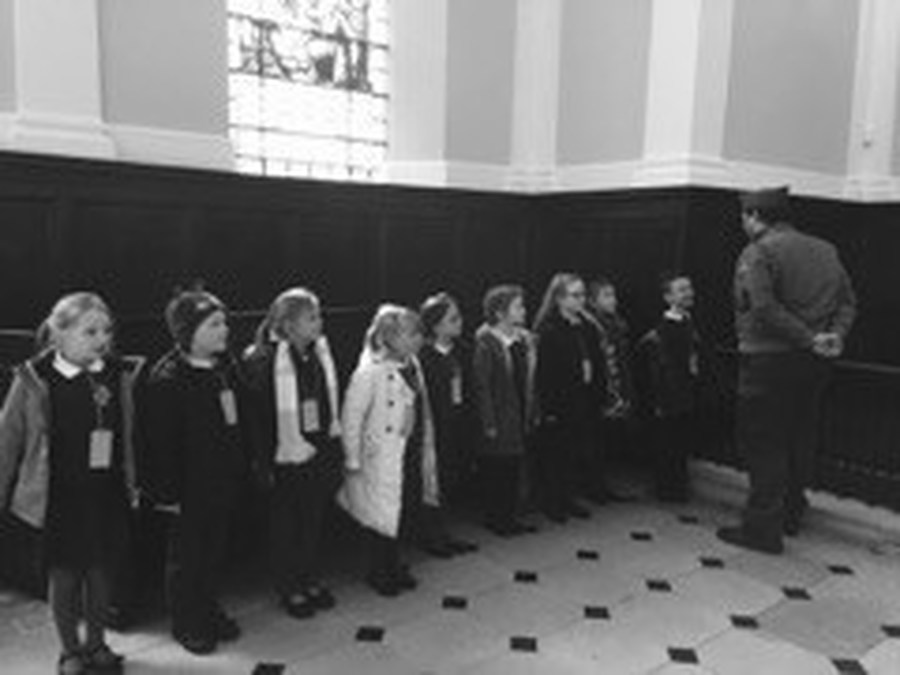 P2 Trip to Carrickfergus Castle (Feb 16) - for recent photos have a look under the 'Children' tab above, then select 'Year Group Work', 'Primary 2' and finally select 'P2 photos'.
Into Film
Our Film Club enjoyed an interesting and exciting visit to the Odeon Cinema on 16th October 2015 for a BAFTA Kids Behind the Scenes Event as part of the Cinemagic Festival.
The children met CBBC Presenters Ben Shires and Katie Thistleton and actor Connor Byrne who currently stars in CBBC's The Dumping Ground and has previously had roles in Tracy Beaker, London's Burning and The Bill. They had the opportunity to learn about voice acting, filming and presenting and take part in question and answer sessions and competitions.
The children represented the school extremely well and staff at the venue and the presenters commented on their excellent behaviour. We are proud to have such great ambassadors for our school. Jack Cairns P6C won an award for his impersonation of The Terminator and Aoife Scott P6M won an award for her Super-hero Character design. Thanks to Mrs Kerr for organising this trip and to Mrs Douglas, a P6 parent, for accompanying the pupils.
We are delighted to announce that our Green Flag status has been renewed for another two-year period! Congratulations to everyone, especially the Eco-Committee and Mrs Wallace, for working so hard to look after and learn about our environment.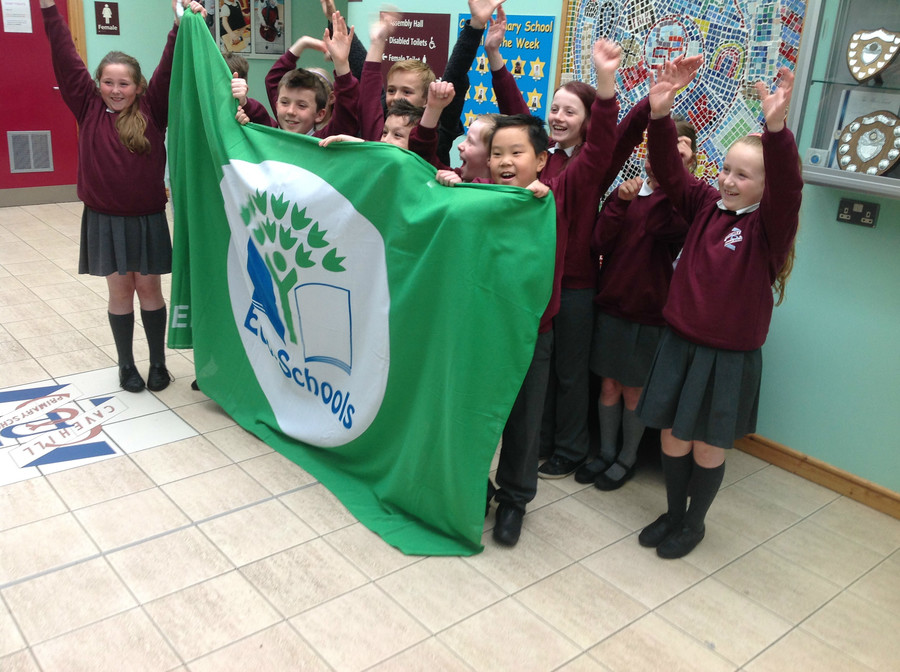 North Belfast Children's Allotment
The North Belfast Children's Allotment Newsletters No1 and 2 are currently available by visiting the PTA section of this web site.
-------------------------------------------------------------------------------------------------------------------------------------------------------------
P7 were treated to a visit from Crusaders Football Club. They were here to show the trophy they are competing for this year (County Antrim Shield) They gave free tickets to the semi final match. Here are a selection of children from P7 who had a close up of the famous trophy.