Eco-Schools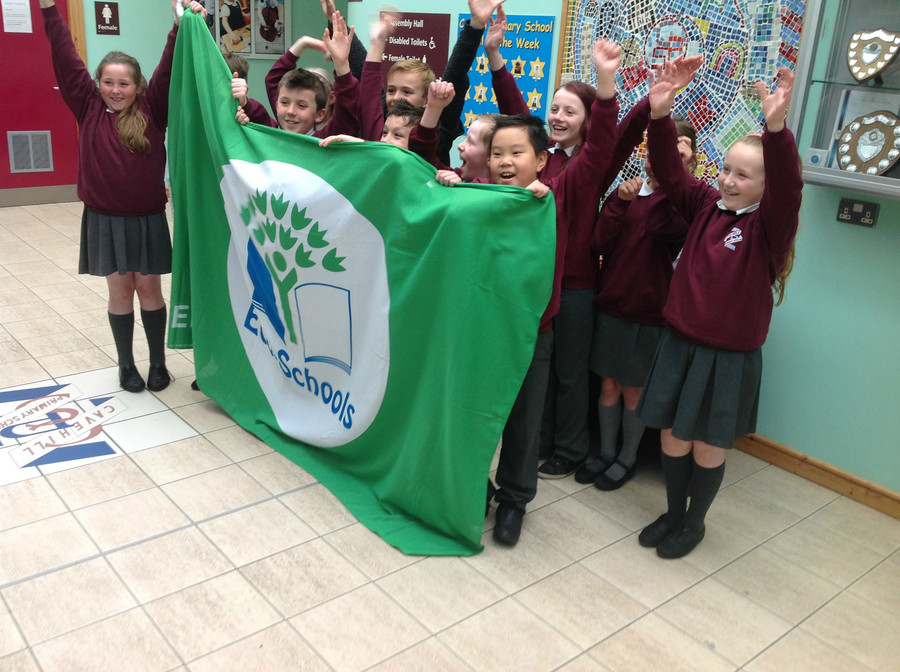 We are delighted to have been awarded our Green Flag which is the highest award that can be presented under the Eco-Schools programme. The Eco-Committee continues to work hard to help us maintain this high standard and we have just been informed that our Green Flag status has been renewed for another two-year period! Well done to all involved.
The Eco-Committee currently has a membership consisting of two representatives from each P5-7 class, a parent, a teacher, the Building Supervisor and the Principal. The Committee is appointed annually from those wishing to considered for this role.
Some of the areas being developed are:
WASTE - continuing to encourage the children to recycle more.
SCHOOL GROUNDS - developing more planting areas within the school environment.
SAVING ENERGY - reducing the amount of energy we use.
Litter Awareness Workshop
Belfast City Council came into school to raise P5-7 children's awareness about this important issue. This was a very entertaining way convey this message to our pupils.
Cash for Clobber Competition
We held our annual collections in November and May. We collected lots of clothing and raised additional funds for the school.
Autumn and Spring Tidy-ups
Parents and children carried out an autumn and a spring tidy-up of the gardens on Saturday afternoons. They also planted some winter flowers and shrubs. Thank you to all who helped with these events.
Power-Down Day
We participated in our Power Down Day in November when everyone in school switched off power for a few hours. We monitored the impact that this had on our energy consumption and even though it was a very dark day, we saw a significant reduction in our usage. We will continue to try to be more careful in future!
North Belfast Children's Allotment
Many parents and children came to the school on selected Saturday afternoons to learn new gardening skills and began to grow their own produce! These were fabulous days and great fun.
Click below to find out more about what we have been doing in our school to look after the environment.
For more useful information and fun games have a look at the following web site:
(Click on 'Operation energy' and select information/activities for parents and community)